Our New SpeedyLink just might be your answer to wake up that painfully slow electric golf cart and get you more golf cart speed. SpeedyLink is an aftermarket Club Car speed upgrade. It works on 99% of all 2002, 2003, 2004, 2005, 2006 and 2007 Club Car IQ carts. It's a unique " speed chip " accessory or "mod", providing a simple and cost effective way to give an instant increase of the standard Club Car speed for the "IQ" model golf carts. It just plugs in near the motor and can be removed just as easily if desired. It's fast, easy and we can ship you one immediately. Made right here in the USA!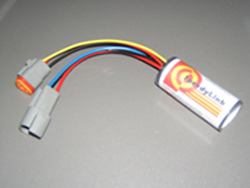 We designed this overdrive module after experiencing frustration with our own slow cart. So many folks wanted one that we decided to manufacture them and offer them to other frustrated CC owners and dealers. Easier than a code 4 upgrade, SpeedyLink, from Digital Overdrive Systems is an electronic "OVERDRIVE" System that can increase a stock Precedent or DS "IQ" golf cart speed by more than 40% in most cases. The maximum speed with standard gears and tires has reached 24 mph for some customers. The average is around 19-21 mph.
The part is very simple to install and can be performed by anyone in just a couple of minutes. SpeedyLink is guaranteed to work or your money back if returned within 14 days. It also carries a full one year warrantee! Take a moment and watch our video demonstration and be sure to read what our customers have said about our SpeedyLink golf cart parts and Maxilink battery cables on the "Testimonials" page.
Please Note: The SpeedyLink is for "IQ" carts only ("Q" in the serial #). It will not work on the newer excel i2 carts ("H" in the serial #) We are working on a SpeedyLink Plus for those. 2008 and newer carts do not always respond as well with the SpeedyLink, only 1-2 mph increase in some cases.